The family of a schizophrenic man who died last month at Theo Lacy jail in Orange filed a $5 million wrongful death claim Friday against the county.
Diana Alvarez, mother of deceased inmate Anthony Aceves, complained for weeks that the Sheriff's Department and District Attorney's Office have kept her in the dark about the details of her son's May 23 death. Alvarez and her attorney, Humberto Guizar, speculate that jailers withheld the psychotropic drugs and medical care he needed.
"Going to jail shouldn't be a death sentence," the Santa Ana woman said at a Friday news conference. "I want answers. I want to know what happened to my son."
Aceves, 38, was nearly halfway through a 90-day jail sentence for violating his probation by missing a meeting with his probation officer. Aceves was on probation for battery on a police officer.
The claim, often a precursor to a lawsuit, said, "The jail staff intentionally or through deliberate indifference ignored decedent's medical condition."
Guizar said withholding medication is tantamount to torture. He added that first-responders must work diligently with the mentally ill and not expect them to react like a mentally healthy person.
"Whatever he did, he was schizo and you can't judge a person like that," Guizar said, explaining authorities need more training on how to handle the mentally ill.
The family's claim comes a week after an Orange County grand jury criticized the Sheriff's Department for not checking the vital signs of all inmates entering the jail — an action that could save lives. In an early study, the grand jury found that 44 percent of the jail deaths from 2014 to 2017 could have been prevented with better medical care.
The Sheriff's Department and District Attorney's Office said Aceves' death is under investigation and declined to comment further.
"The struggle for justice and accountability continues as I embark on another of many challenges."

No Justice. No Peace.

Humberto Guizar, Esq.
Watch Full Press Conference Video in Spanish (Click Here).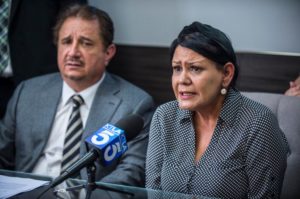 Special Thanks to Univision34 and Tony Saavedra
Blog by Los Angeles Civil Rights Attorney – Humberto Guizar, Esq.