When a body worn video shows something that helps an officer they immediately release such video. on the other hand, when a video does not help the officer the agency never shows the misconduct. The release of this very tragic incident on video shows the unadulterated double standard by law enforcement.
"Fullerton police have released new video showing the moments leading up to an officer-involved shooting that resulted in the death of a 17-year-old girl.
The video from the officer's body camera starts after Hannah Williams was pulled over for speeding.
After the officer's body camera initially starts recording, there is no sound for about 30 seconds.
Once the sound boots up, the officer can be heard instructing Williams to put her hands up.
The officer walks around the side of the car to find Williams out of the car, appearing to be in a shooting stance. That's when the officer opens fire and Williams falls to the ground.
Police say she was holding what turned out to be a replica gun. Another angle in the video shows what looks like a gun on the ground…"
Read Full Article & Watch Video (Click Here).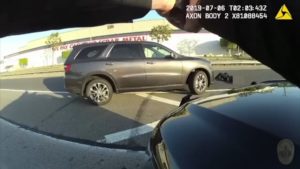 Special Thanks to ABC7 and Greg Lee
Blog by Los Angeles Civil Rights Attorney – Humberto Guizar, Esq.