According to preliminary reports, the young Daniel Anthony Vargas died at the hands of officers of the sheriff's office, who were in search of the suspects of an assault. The victim's mother claims that, so far, she has not received any information about the case that remains under investigation.
He was shot 14 times by Sheriffs from the ELA precinct. Yup – the same precinct where it has been disclosed by Sheriffs themselves that there are deputies actively involved in gang activity. They can try to hide but I will see to it thatjustice is served. With so much misconduct I just cannot rest.

No Justice. No Peace.
– I have asked for the video footage and have not recieved it.

Humberto Guizar, Esq.
Watch Full Press Conference Video in Spanish (Click Here).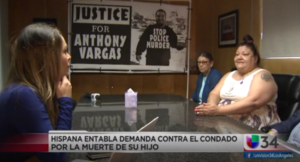 Special Thanks to Univision Noticias 34
Blog by Los Angeles Civil Rights Attorney – Humberto Guizar, Esq.